A team of gentle equine therapy horses
Our equine therapy horses in Haysville, KS bring a noticeable personality and experience to the practice. For each horse, they offer people specialized abilities to help everyone overcome obstacles and heal at the same time.
Justice
13 year old draft cross
Justice has lived at Blue Sky Ranch since he was less than a year old. His very best friend is Big Bubba. Justice is full of energy and can be quite the scaredy cat, but he mostly uses his energy to love on people.
Quita
18 year old Paso Fino
Quita is a mother to everyone – horses, cats, and especially people. Quita is very sensitive and quick to react to situations. We are convinced she knows how people are feeling even before they do! She loves attention, and if you rub her back – she will probably try to rub yours, too!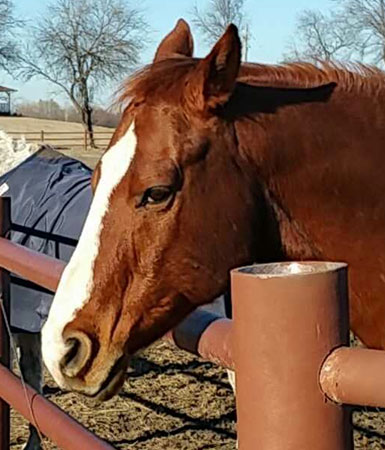 Dash
16 year old quarter horse
Dash lives up to his name. He is very fast – especially if food is involved. Dash does not bond quickly with people but when he does…it is a forever friendship! Dash loves trail rides and laying in the lake on hot summer days.
Sponsor a horse
Horse sponsorship is an amazing way to support the daily needs of our mission.  A contribution of $1500 covers the annual cost for one horse's vet, feed, and farrier.  Choose your favorite horse to sponsor and your name will be placed on the stall door and on this web page for one year! Please remember that all donations to Blue Sky Ranch are 100% tax deductible. Our horses are looking forward to your support!